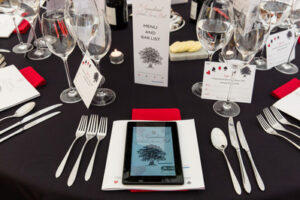 Everyone attending the Cranleigh Summer Ball will be given a Summer Ball Programme. This Programme will be a full colour brochure designed for guests to read on the night and to take home. As well as a welcome to the evening's entertainment and running order, it will also include details about the auction prizes, the Cranleigh Foundation, the Sponsors and Supporters.
There will be a number of pages within the Programme for advertisers. For those interested in advertising, the Programme size will be 210mm square, and the opportunities are for whole page, half page or quarter page advertisements.
The prices are as follows:
Inside Front or Inside Back Cover ……….£1000
Whole Page……………………………………….£ 600
Half Page…………………………………………..£ 350
Quarter Page …………………………………….£ 200
Full Page advertisements have a 3mm bleed at the edge.
Half Page advertisements can be either landscape (210 x 105mm) or portrait (105 x 210mm).
Quarter Page advertisements are 105 x 105mm
For further information, or to reserve a space, please ring Dodie Cripp on 07720 398113 or email Belinda Graham-Rack (bgr@cranleigh.org)